The Isabella Santos Foundation Receives $5,000 MassMutual Foundation Grant
10/12/2020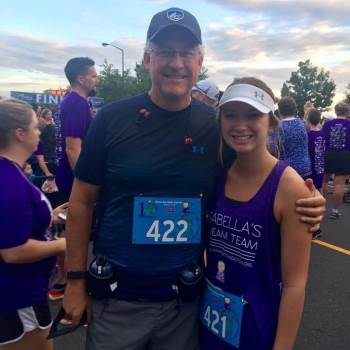 The Isabella Santos Foundation, a non-profit dedicated to supporting children and families with children fighting cancer, has received a $5,000 grant from the MassMutual Foundation as part of a national Community Service Award (CSA) program. The Isabella Santos Foundation is one of thirty-two organizations nationally to receive an award. The MassMutual Foundation made the grant as a tribute to the volunteer efforts of Tim Flanagan Jr., President of MassMutual Carolinas in Charlotte.
"We are stronger when we come together as a community, and our Community Service Awards program recognizes a group of MassMutual financial professionals who embody this spirit, working with members of their respective neighborhoods, towns and cities, helping nonprofits with which they are involved grow and thrive," said Dennis Duquette, Head of MassMutual Community Responsibility and President of the MassMutual Foundation. "We are proud of the time and energy Tim dedicates to better his community and delighted to support the great work MassMutual financial professionals do with organizations across the country."
The Isabella Santos Foundation (ISF) is dedicated to improving rare pediatric cancer treatment options in an effort to increase survival rates of kids with cancer so they can live their dreams.
"Funds from the MassMutual Foundation grant given to the Isabella Santos Foundation will go towards the ISF Rare and Solid Tumor Program at Atrium Health Levine Children's Hospital which treats a wide range of rare pediatric cancers," said Karen Murphy, Director of Sponsorships at ISF. "These funds will help support the growth of research and clinical operations for the children of Charlotte and beyond."
Flanagan has been with MassMutual Carolinas for 16 years. He has been committed to the Isabella Santos Foundation since 2017 and has dedicated countless hours of time and talent to help the organization grow and flourish.
"I am very pleased that my dedication to the Isabella Santos Foundation has been recognized by the MassMutual Foundation," said Flanagan. "This grant will provide much needed funding to continue supporting our community through fighting rare pediatric cancers with Atrium Health Levine Children's Hospital and the ISF Team."
CRN202208-216182